Superman Games Online

Now most people think Superman was born Kal-El and was sent to earth by his father Jor-El shortly before the destruction of planet Krypton, but actually rather than being created on Krypton he was conceived by two American students in 1933, namely Jerry Siegel and his artistic friend Joe Shuster. However the original superman was not a success and it took six years of refinement before a publisher was found. During that time the superman character was remodelled regularly finally adopting characteristics of American actor Douglas Fairbanks who had starred in films including the Mask of Zorro and Robin Hood. Clark Kent, Superman's alter ego, is a nod to Harold Lloyd whilst Lois Lane took her character from Joanne Carter who later became Jerry Siegel's wife. Despite being from Krypton, Superman became an all American hero dressed in the colours of the American flag and over the decades has battles adversaries including Lex Luthor and General Zod. Most recently he has been at war with Batman after his near destruction of Metropolis when Batman concluded the earth could not continue to be home to an alien with such capacity of destruction. Here we present what we believe are probably the best superman games online as well as some puzzle games and superman games for kids.
---
---
Superman Games Online: Save Metropolis



In this Superman Returns movie game, loose debris is falling from the Daily Planet building. Use your powers to save those on the streets below by smashing as much debris as you go, but watch out for the Kryptonite.
---
Superman Games Online: Stop Press!



In this Superman game you play the role of Jimmy Olsen, the Daily Planet's star photographer. Your mission is to get some good pictures of Superman for tomorrow's edition.
---
Superman Games Online: Metropolis Defender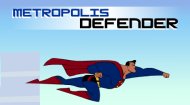 In this Superman game, the Daily Planet has got news that meteors are going to hit Metropolis! Your mission is to help Superman smash the meteors before they hit the ground.
---
---
Superman Games Online: Superman Snowboarding



Okay, we admit that we can't ever actually recall having seen Superman snowboarding in any of the films or comic strips, but lets face it, he did spend a lot of time at the Fortress of Solitude and may well have spend a bit of time chilling out in between listening to his father Jor-El droning on and on
---
Superman Games Online: Flying Game



In another of our free online Superman flying games, guide Superman through the crystal cave and avoid the sharp crystals on the room and floor of the cave as well as any you encounter on your flying trip.
---
Superman Games Online: Supervan Vs Lex Luthor



In this online Superman video game for kids it's Superman versus kryptonite! The evil, but genius criminal mastermind Lex Luthor has lured Superman into space and has launched a volley of kryptonite against him and you need to fly through the field of kryptonite in order to beat Luthor.
Play Game >
---
---
Superman Games Online: Sort My Tiles



This Superman puzzle is great for younger kids. All you have to do is release the tiles by clicking the red button then sliding them with your mouse onto the square on the puzzle grid that matches the tile. Simples!
---