Captain America Games Online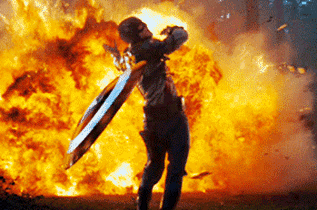 Although best known for his reboot in the Marvel Cinematic Universe in 2011 with his first outing set seventy years earlier in Captain America: The First Avenger, Captain America first appeared seventy years earlier in real life, well comic life, in Captain America Comics in 1941. Supposedly frozen in ice for seventy years the Captain is now a member of the Avengers, despite a little falling out in Captain America: Civil War, but with friendships in the cosmic battle against Thanos, he perhaps still has a future but we wait to find out as his current actor has hung up his shield. Unfortunatly many of our best Captain America games didn't survive the fall fo Flash however we present what remains, though it's not much. All references to Marvel and its characters are the intellectual property of Marvel.
---
---
Captain America Games Online: Captain America!



Grab your shield, jump on your motorbike and drive Captain America through downtown in the pursuit of coins whilst battling foes such as Loki. Okay, this Captain America Avengers game doesn't quite capture the excitement of the movies but it's still fun for play.
Play Game >
---
Captain America Games Online: Hidden Objects



We had some really cool Captain America games on site but sadly all ceased to function when flash was withdrawn leaving this rather sad hidden objects game in which you have to find hidden stars in images of Captain America, the first Avenger.
---
---
Captain America Games Online: Coloring Book



The first Captain America film was shown in Black and White but now kids can get the chance to color in their favourite superhero with our free online Captain America coloring book. Simply select the color from the palette and fill in areas of the Captain America images.
---
Captain America Games Online: Dress Up



This is a fairly straight forward dress-up game which will appeal to younger kids as they select the outfit to dress up Captain America. We have a few other Captain America games on site so after you've played this one, why not check them out?
Play Game >
---